fmAddSchedulerTask

fmBackupRestoreWizard

Outgoing Email!
fmAddNewSQLDialog
Backup helps you keep your data store in safety and prevent their possible loss or damage as a result of some operations.
Automated Backup and Script Execution options allow perform database backup and run SQL script according to the schedule configured in advance. 
It helps to make copies of the store data in a certain period and keep your data from failure. 

Backups tab
In order to configure Automated Backup of a database in the first time, press 'Create or Modify Configuration' option and launch the simple backup process (see the point about this here).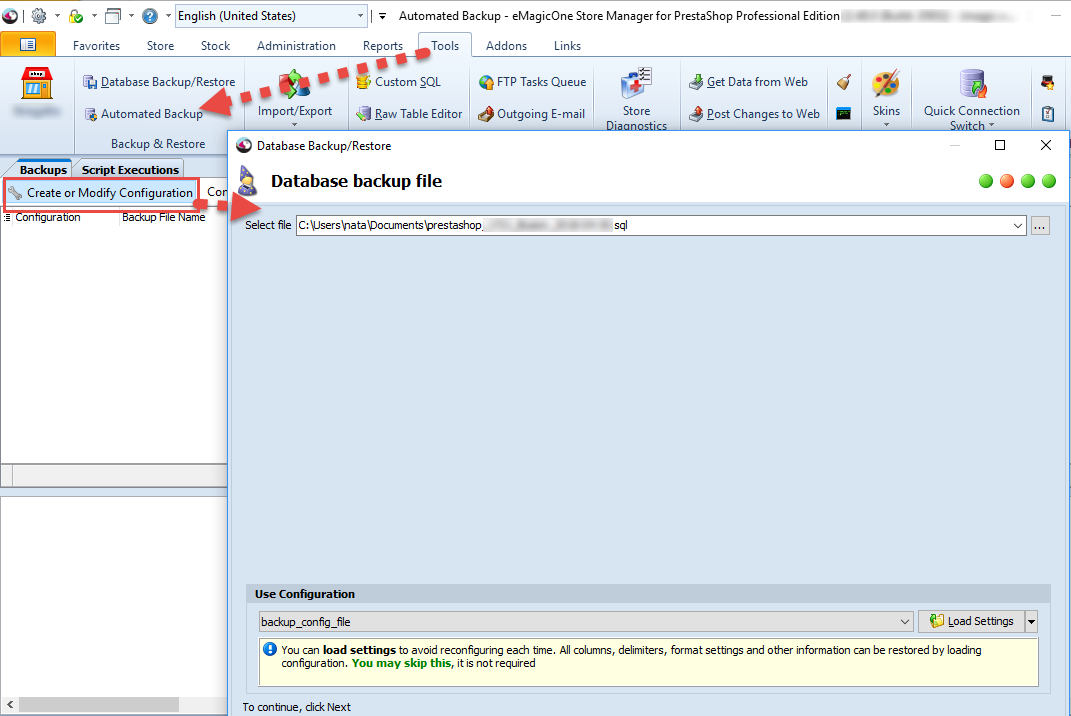 In the last step of wizard save configuration by clicking on the appropriate button below.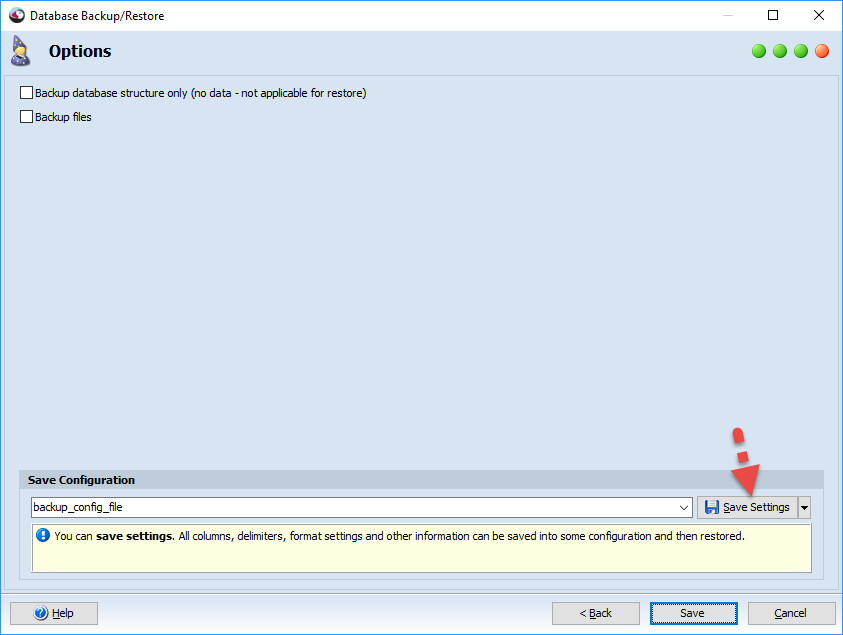 If there is a  previously saved configuration you can, in the Backups tab, select it from the drop-down list and click 'Run Backup' button to launch the process. 

It takes some time and at the bottom of the window you will see the following notification :

Now you can add backup to the scheduler, using the corresponding button on the toolbar. Please note, to be able to perform that you should have the administrative rights in Store Manager. In the timeline form choose the 
specific period: weekly, daily, monthly, yearly and at once; set the operation time; the day of the week or specific month.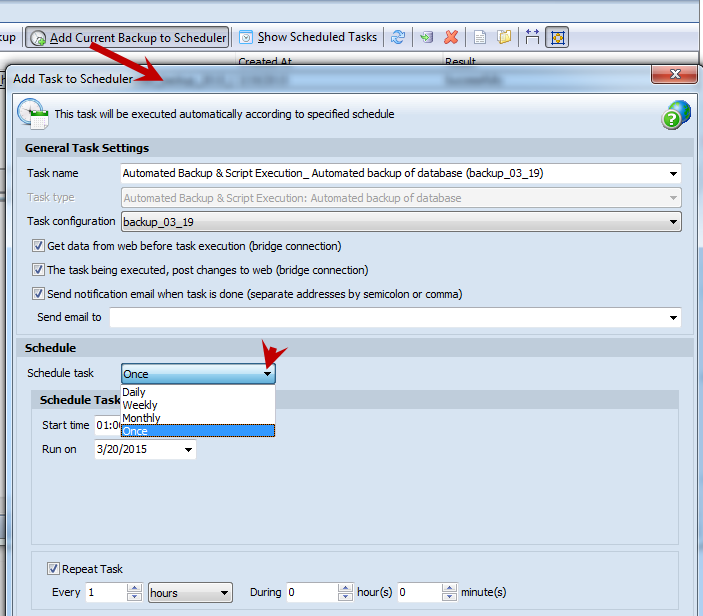 If necessary, at the bottom of the form check the fields on task repetition. Choose the position the most suitable for your needs. 

Click on the 'OK' to save all settings and start the schedule.
Script Execution tab
In case you need to run  SQL scripts frequently, Automated Script Executions option will be useful for you.

Specify SQL script file in the appropriate field of the wizard.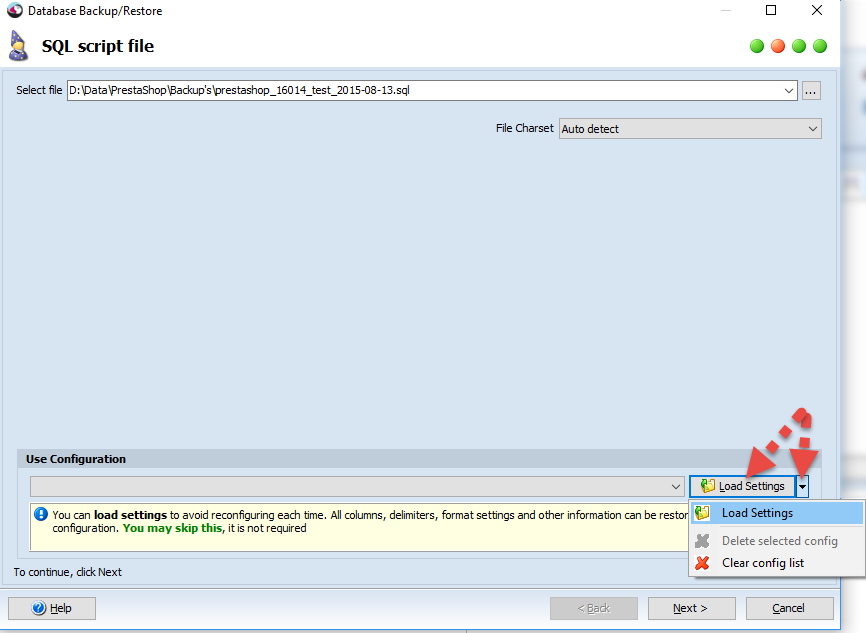 The next window displays the SQL script of the executable file and to continue click 'Next' button. If you intend to only restore files - check the field above.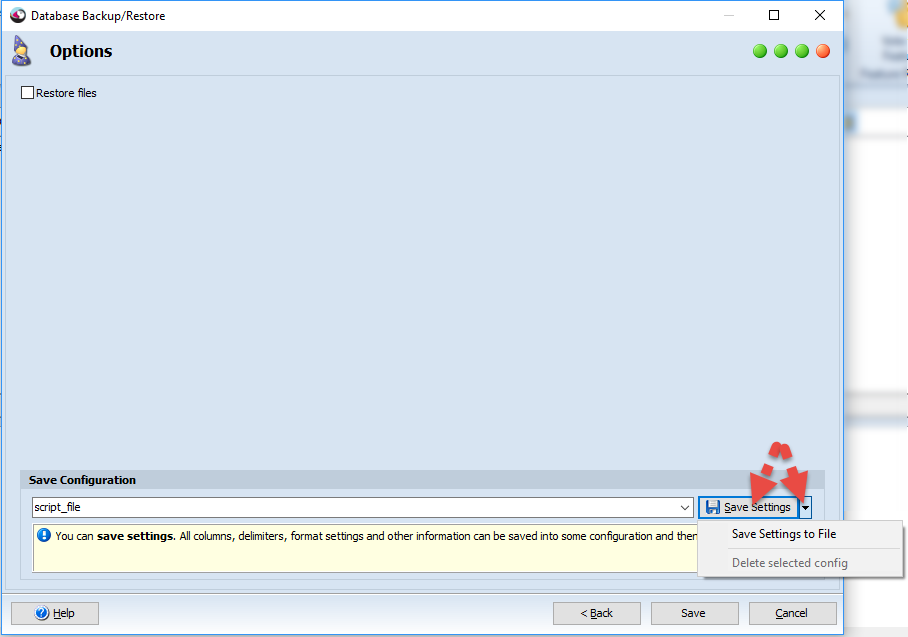 Save the current configuration in the corresponding field at the bottom of this window. 
By clicking 'Save' button you start the execution of the SQL script file, that you have specified on the first step of the wizard.

- r
un script with the current configuration.
NOTE!: Do not run Script, in case you are not sure that SQL is working properly and will not corrupt your database.

serves as
task name, time and frequency specification.
Use the other options in the top toolbar to perform the following operations:

- update data in the current page;
Scheduled task list is the list of tasks that is stored in your Window scheduler. To open it go to Addons / Scheduler Options section and choose 'Show Scheduled Tasks' option.
Here you can find your task to backup your database along with other window tasks performed regularly. Via scheduled tasks' toolbar you can add new tasks or remove existing ones, launch selected task, 
view the properties of the task, enable/disable the task execution.