fmProducts - Category Section 
Comfortable for your customers and visitors PrestaShop category tree makes your PrestaShop Store user-friendly and tilts the balance to the advantage of your products. 
The following topics are covered:
Store Manager for PrestaShop allows you to specify, modify or remove 
PrestaShop
 categories and adjust all structure to meet your needs in convenient
PrestaShop category management
. You can browse your 
PrestaShop
category tree as easy as you browse your folders. You can manage your PrestaShop category tree using simple drag-and-drop technology. It requires few clicks only to make changes and will simplify this time-consuming but so important operation.
To perform basic operations like add, edit or delete 
PrestaShop
categories you can use Categories toolbar
or choose the necessary action from the Categories context menu:
You can perform
 the following operations: 
You have to confirm this operation:
      And to select:

Yes - to delete the category and all its products, but for each of its subcategories it will ask you to confirm action again.
No - to close the window without any changes made, but for each of its subcategories, it will ask you to confirm action again.
    Note: 
If you have products assigned to multiple PrestaShop categories they will be removed not only from selected category but from the store completely! 
    

    

5. Associate with Shop(s) option you can find in the context menu of the Categories area:
 Assign category at least to one of the stores in the form below:
The lower box allows to save the association for the products of the particular category as well (i.e. products will also be attached to the selected stores).
6. You can
copy/paste
selected category using corresponding buttons
. Here you can find more details about
copy-paste PrestaShop category
options.
  7
.
Export categories
wizard allows
you to
export PrestaShop categories
to the .csv file.
   8
.
Import categories
wizard allows
you to 
import PrestaShop categories
 from .csv/.xls file.
         10. Assign images option helps
to set
the appropriate illustration to the selected category. 
Please note, to activate such area you need to have the FTP connection configured properly. Use the browse button to move to the Preferences form and specify the necessary settings details:
Use the filter options in the upper side of the Category area.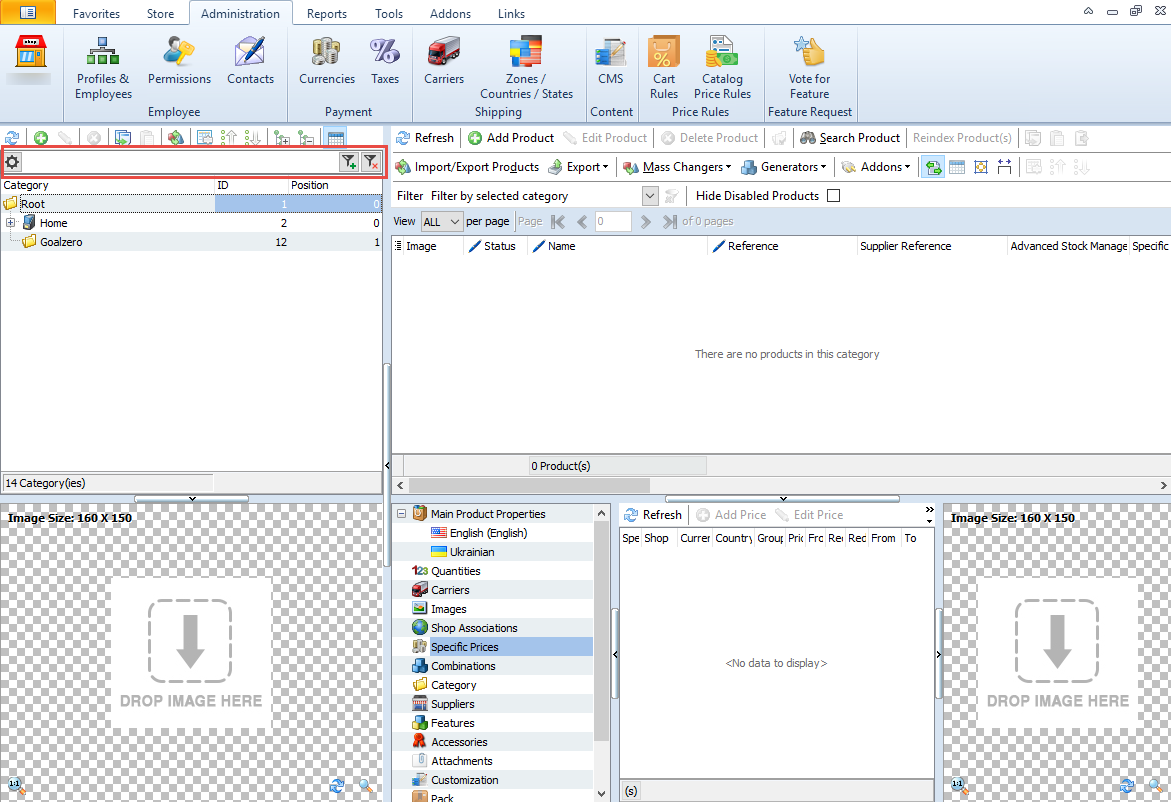 The text bar serves for specifying the title (letters) of the category positions need to be searched.
Take into account on the settings button next to the bar - it opens the list of conditions for the search text (the exact phrase or all the words) :

You may find some useful articles here: