fmProducts,  fmClearProductData

Virtual Products are not touchable products such as an insurance, a reservation, service maintenance, software, guarantee etc. You can add virtual products to your store, import them from files of csv, xml, txt, ods, xls, xlsx 
formats and export to separate CSV file via new possibilities of Store Manager for Prestashop.
Basic operations

To add the virtual product
you should press
'Add Product'
in the Product's toolbar and open
'Edit Product Data
' form.
Enter the basic information about the newly created product: name, price, quantity, description and so on.
Check the field at the bottom of the form -
Virtual Product
' and press
'OK'
button.
In your product list appears a new one which in the column '
Is virtual'
  will have the appropriate check mark.
You can  filter your virtual products, checking the appropriate field in the data grid:
 
You are able
to clear your virtual product's data
, noticing the relevant condition from the list of possible actions, that appears after clicking a
'Clear Product Data'
button (see picture below):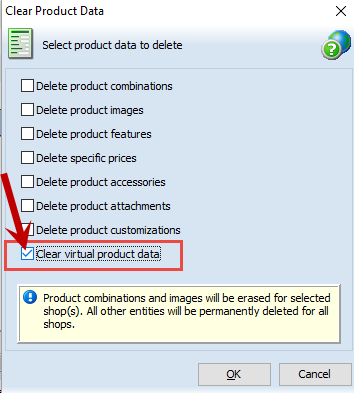 To be able to see this form use the context menu after product selection: