Product Info tab
The 'Product Info'  tab contains general information. If you create a new PrestaShop Product, pay attention to fields marked with *, they are Required. Others may be left blank or with default meanings. 
Product main tab consists of two sections:
- main product details - name, reference, status, parameters (weight, height etc) and others;
- the price details - the price value with and without taxes
If you only know the retail price, but not the pre-tax price, simply fill in the Retail price with tax field and the Pre-tax retail price will be calculated automatically using the tax displayed in the Tax drop-down list.

You can plan a reduced price for a specific period of time, e.g., -15% for a one-week period.
Let see each of them:
1) 301: Redirect permanently - such condition means the current product will be unavailable on the Front-End on a regular basis and when you are pressing on the option 'View Product page' via context menu of Store Manager it is
automatically redirected to the page of another one, selected on the 'Related product' field.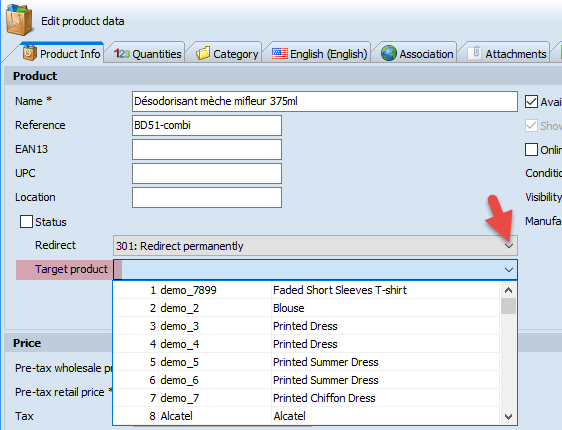 2) 302: Redirect temporarily - allows configuring product availability on the store Product page with the redirection to the other one position provisionally (on the temporary basis).
3) 404: No redirect - selected position makes product disable on the Product page without any redirection.
Quantities tab
Language tab
Tags - keywords or set of the words that are used to facilitate search process of the desired products by customers. You can add multiple tags to the one product by which it can be found. 
In 'Meta title' and 'Meta description' fields you can see the number of characters allowed for such fields. If the characters exceed the limit, you will see the numbers in the red:
We recommend not exceed the permitted number of the characters.
Association tab (will be available in case the multi-stores)
Helps to assign the product to the appropriate store. Just check the necessary checkbox opposite the store you want the product will be associated with:
Attachments tab
If you have some additional information on product - it may be some additional product information, operating manual etc. - you can attach it to the selected position and the extra information will be displayed on the 
Product Page at the store. To perform this, upload, firstly, additional details in Attachments section of Store Manager. 
Then, by suing the Edit Product form assign available attachment(s) to the product: